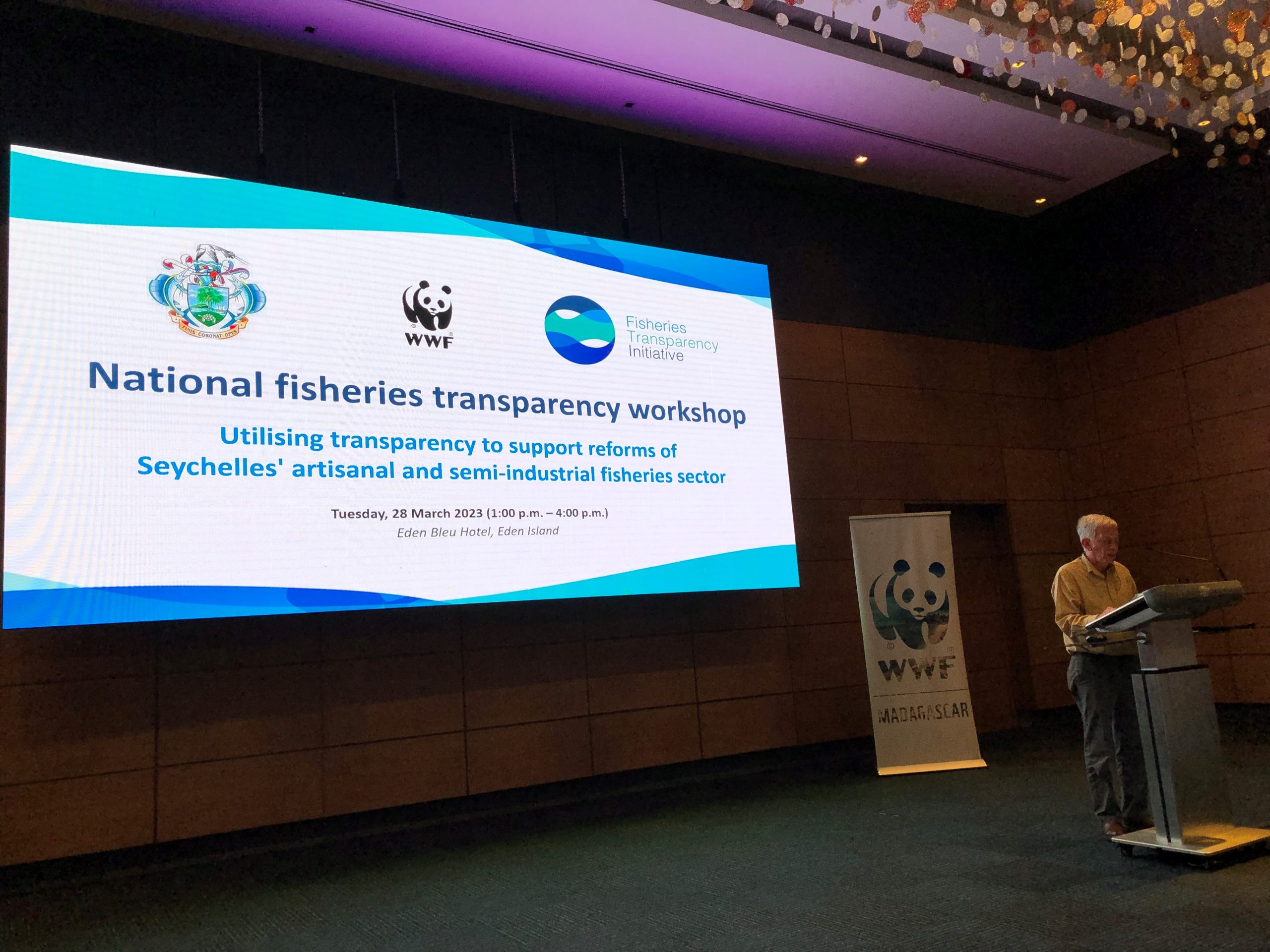 28 March. Fisheries stakeholders in Seychelles gathered today for a national workshop aimed at identifying mechanisms to move the Indian Ocean archipelago from increased public availability of fisheries information towards greater participatory governance of the sector.
The workshop was split into a morning session focused on large-scale fisheries and an afternoon session focused on artisanal/semi-industrial fisheries. A combined total of around 40 representatives from across government, the private sector, civil society, media and academia attended the two sessions.
Since publishing its first FiTI Report in April 2021, Seychelles has made significant advancements in transparency of fisheries management over the last two years. Vast amounts of information have been made available on government websites, e.g. that of the Seychelles Fishing Authority, including stock assessments, revenues from fishing licences, catch and landing data, subsidies as well as a summary of fisheries tenure arrangements for each of the country's fisheries in a user-friendly FAQ format.
Yet, the impact of transparency does not lie in the act of publishing information alone. It also relies on how this information is used to contribute to managing fisheries efficiently and sustainably, as well as the ability for effective oversight, accountability and public dialogue. This was recognised in the recent validation process for Seychelles that was carried out by the FiTI International Board. The validation determined that – while Seychelles has demonstrated significant progress in implementing the FiTI's transparency requirements – there is a need to ensure that the information that is now publicly available contributes to sustainable policy-making, effective oversight, accountability and public debates.
One of the key objectives of the national workshop was therefore for participants to engage in frank and open discussions on how they think the data the Seychelles' government is publishing through the FiTI implementation process can support national reform priorities for the country's fisheries sector. Another important objective was to identify what fisheries stakeholders in Seychelles need – whether in terms of education, capacity building or more regular dialogue platforms – to be able to contribute meaningfully to achieving those reforms.
Participants were each presented with a copy of Seychelles' 2021 FiTI Report and briefed on the key findings of the report by the Report Compiler, Daniella Larue.
The national workshop was co-organised by FiTI, WWF Madagascar and the Ministry of Fisheries and Blue Economy of Seychelles, with funding provided by the Norwegian Agency for Development Cooperation (NORAD).