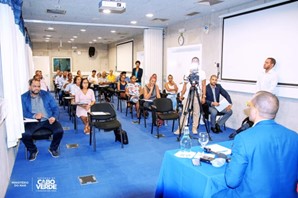 Mindelo, 12 October 2022. Stakeholders in Cabo Verde gathered today to discuss the next steps for the country to become a recognised FiTI Candidate country, in accordance with the FiTI Standard. Cabo Verde's Minister of the Sea, Mr Abraão Vicente, presided over the opening ceremony of this multi-stakeholder workshop, conducted at the Instituto do Mar (IMAR) in Cova de Inglesa in São Vicente.
During this workshop, which was attended by representatives from the government, industrial fishing, artisanal fisheries as well as civil society organisations, it was emphasised that the FiTI is a global and voluntary initiative that helps to solve problems affecting the fisheries sector, contributing to food security, nutrition and social stability, supporting the sustainability of marine ecosystems, and also encourages the fight against corruption and illegal, unreported and unregulated fishing.
Ms Iolanda Brites, the appointed FiTI National Lead for Cabo Verde stated that the "FiTI provides a unique global framework to help coastal countries like ours to increase the credibility, transparency and quality of national information on fisheries governance, in a systematized way." She added further that "Cabo Verde made its public commitment to implement the FiTI in 2020, but activities had to pause due to the COVID-19 pandemic. This year, the government has designated the Ministry of the Sea as the national authority responsible for implementing this initiative."
The country is now in the process of preparing the establishment of its FiTI National Multi-Stakeholder Group, and it is expected that Cabo Verde will submit its FiTI Candidate application to the FiTI International Board by end of December 2022.