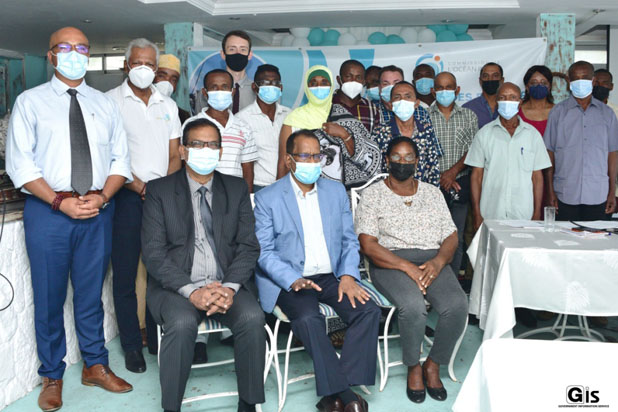 The International Secretariat of the Fisheries Transparency Initiative (FiTI) undertook its first country mission to Mauritius to engage with key national stakeholders and raise awareness around the importance of transparency for sustainable fisheries management.
The principal objective of the mission, which took place between 31 October and 7 November, was to participate in the launch of a regional artisanal fishers conference co-hosted by the Fédération des Pêcheurs Artisans de l'océan Indien (FPAOI). FPAOI is the FiTI's national implementation partner in Mauritius. The FiTI International Secretariat was represented by Mr. Will May, FiTI's Regional Coordinator for the Western Indian Ocean.
Around 25 artisanal fishers from Comoros, Madagascar, Mauritius, Réunion and Seychelles attended the conference, organised under the theme of "The Evolution of Artisanal Fisheries in the Indian Ocean: Constraints, Perspectives and Strategies."
Among other activities, Mr. May delivered a presentation introducing participants to the FiTI and offering them the opportunity to learn about the role transparency can play in increasing the visibility of small-scale fisheries in national debates and protecting the livelihoods of artisanal fishers.
Enhancing the public availability of fisheries management information held by governments – and gradually closing information gaps where they exist – holds a myriad of benefits for small-scale fishing communities around the world. This is because official data on small-scale fisheries persistently underestimates their scale and contributions, resulting in the marginalisation of the sector from decision-making processes and inequitable flows of government support. More information on this topic can be found in the FiTI's latest t-Brief.
Participants of the conference were also briefed on the status of the FiTI's implementation in the Western Indian Ocean. To date, Seychelles and Madagascar have committed to implement the FiTI in the region, with talks also initiated with the governments of Comoros and Mauritius.
To this end, the FiTI met with several senior officials of the Mauritian government during the week-long visit, including Hon. Minister Sudheer Maudhoo and Permanent Secretary Raj Kishore Bunjun, both of the Ministry of Blue Economy, Marine Resources, Fisheries and Shipping. Engaging discussions centred on the prospect of Mauritius joining the FiTI and the potential benefits arising from an improved regional exchange of fisheries management information between Indian Ocean island states.
During his visit, introductory meetings were also held between the FiTI and representatives of a number of other organisations based in Mauritius, including the Indian Ocean Commission, the European Union, and Transparency Mauritius, among others.
Photo source: Government Information Service (GIS) Mauritius. Copyright: All rights reserved.