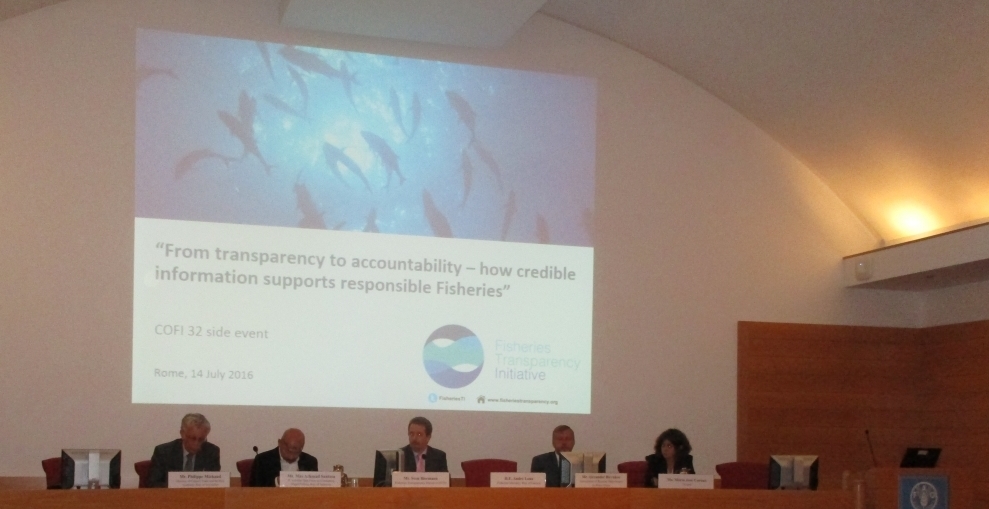 ROME – 14 July 2016. The Fisheries Transparency Initiative (FiTI) was invited to hold an official side-event at the 32nd session of the COFI in Rome: "From transparency to accountability – How credible information supports responsible fisheries" attracted a variety of interested stakeholders and permitted interactive discussions amongst the participants.
Reflecting the multi-stakeholder approach of the FiTI, the panel, chaired by the Director of the International FiTI Secretariat Sven Biermann, gathered government representatives from Indonesia and the Seychelles, a business representative from the Russian Ship-owner Association in West Africa and a NGO representative from Oceana.
The discussions emphasized the importance of transparency on access to marine fisheries to ensure sustainable management of fish resources.
"Making fisheries activities more transparent would bring many benefits, not only to better assess fish stocks but also to contribute to the fight against IUU fishing. Transparency regarding who has the right to fish would be an easy way to distinguish legal operators from those engaged in IUU activities", added Maria José Cornax, Fisheries Campaign Director.
"We share the point of view of NGOs when they say that fisheries sustainability is important. We want to continue fishing in the future, and for this we need to ensure the sustainability of our marine resources," said Alexander Biryukov, President of Association of Russian Ship-owners in West Africa.
An opinion shared by Philippe Michaud, Special Advisor to the Ministry of Finance, Trade and the Blue Economy of the Seychelles: "Tuna represents the biggest part of our exports. Sustainability is therefore necessary for the Seychelles".
Furthermore, panelists and participants discussed the need for greater participation of stakeholders to facilitate a collective understanding of the state of the access to marine fisheries.
"Transparency shall stand next to accountability to ensure that fishing information is credible," said Mas Achmad Santosa, Coordinator of Special Advisor of the Indonesian Presidential Task Force on Combatting Illegal Fishing.
After the interventions, numerous questions from the audience stimulated an interactive discussion on the core aspect of transparency and participation and the core principles of the Fisheries Transparency Initiative.